Select your connected devices carefully—the future of your house depends on it
You may not have realized it at the time, but when you bought your first smartphone, you made a pretty intense, long-term commitment. Similar to the Windows versus Mac computer showdown of the 1980s, the iPhone versus Android slugfest of the 2000s was all about locking users into an ecosystem of apps, services, and hardware. And the next battlefront for tech companies in the 2010s is the smart home, with everyone from startups to tech titans vying to control your internet-connected house.
"2015 is going to be a really big year for home automation," says Andrew Thomas, co-founder of Skybell, which makes an Internet-connected doorbell that includes a motion-activated camera. But Thomas isn't just bullish on new gadgets coming to market—he's excited to see how they will all begin working together. From Apple's HomeKit plans, to Google's "Works With Nest" model (and efforts from GE, Samsung, Staples, and other in between), there are many options for linking together your smart home devices. Here's what you need to know, before getting locked into one of them.
Apple's HomeKit: Letting iPhone owners use Siri to control everything from lights to locks, Apple's smart home strategy requires nothing more than the right accessories. These gadgets all sport Apple-authorized chips that encrypt your smart home-controlling commands sent from your iPhone to your connected thermostat, for example. Once hese products become available, in the first half of 2015, Apple's solution will be the most secure smart home option available.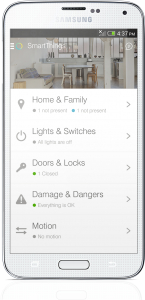 GE's Wink: Run by a startup, Quirky, but powered by a giant, GE, Wink is an Android and iOS app that lets users control products from a range of manufacturers, all with one interface. Users can also program the Wink app to have smart home products interact with each other independently. For instance, you can program a "robot" that tells connected lights to turn on every time a smart door lock is opened. Though the app can control Wi-Fi products directly, Wink requires a $50 hub device to ensure smart home products using other wireless technologies (like Bluetooth and Z-Wave) play nicely, too.
Google's Works With Nest: Google's plan for the house of the future is more than smart, it's truly intelligent—and at the center of their effort is the Nest Learning Thermostat. Acting as the smart home hub, Nest interacts with select devices highly automated ways. For instance, the Kwikset Kevo smart deadbolt can automatically set the temperature to the preference of whoever unlocked the door. Or if your Nest thermostat notices you're away, it can tell select Whirlpool washers and dryers to refresh the laundry loads left inside, until you return.
IFTTT: A free, cloud-based software service that stands for "If This Then That," IFTTT (pronounced "ift") is a wide variety of triggers that can be programmed by users for a range of purposes, covering everything from wearable devices to social media feeds. But as it applies to the smart home, this easy-to-use system provides remarkable flexibility. Setting the lights to turn on at particular times is only the beginning and is just as easy to program as making them flash when your fantasy football team takes the league lead (or a water leak is detected in your basement).
Samsung's SmartThings: Linking together the company's televisions, appliances, and connected sensors with other compatible third-party devices, Samsung's SmartThings solution also has a hub ($99) at its center. But while this might appeal to to people who really love Samsung products, it's also compatible with Android, Apple's iOS, Windows phones. But even better, with a battery backup and cellular connectivity options, it's also ready for off-the-grid action, which is nice because when the power goes out, your home's smarts won't.
Keep in mind, you don't need a hub to increase your home's IQ. "Having every automation device connected on one single hub, the idea of that is very alluring, very convenient, hypothetically," says Thomas. "But I don't really know that's really going to happen." That's why most smart devices come with their own apps. You don't need the added layer Siri or Samsung to run your smart home. You could just tap the apps yourself—or, if all else fails, you can just control your home by hand, the old-fashioned way.
Source : http://www.sunset.com



by